GOES East Watches Ice Drifting Across Lake Michigan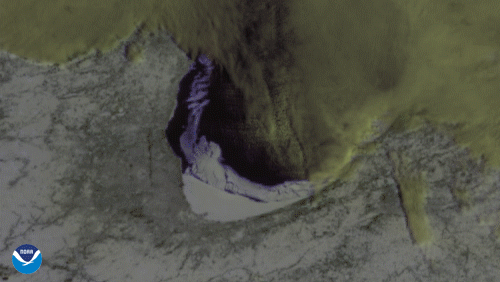 On Friday, Feb. 19, 2021, the GOES East satellite zoomed in on the Great Lakes, where it captured this beautiful imagery of ice drifting across the southern tip of Lake Michigan.
This image is a composite of visible band 2 , which has the finest spatial resolution of all bands on the satellite's advanced baseline imager, as well as the Day Snow / Cloud Layers product. Combining these allows us to see the ice in fine detail by differentiating between snow and ice (blue and white), and clouds (yellow).
The ice was also captured on that day by the polar orbiting satellites , operated by the Joint Polar Satellite System. NOAA's Great Lakes Environmental Research Laboratory observed that on February 22, 34% of the Great Lakes were covered with surface ice, with Lake Michigan seeing 18.7% coverage.
In case you were wondering what this looks like from the ground, NOAA's National Weather Service Office in Cleveland shared this tweet:
A perfect example of how people become stranded on ice and needing to be rescued. Here is a time lapse from Chicago showing the ice breaking off from the shoreline. Remember that Ice is never 100% safe. #OHwx #PAwx #NWS #Cleveland #Weather #Ohio #LakeErie #GreatLakes https://t.co/RiigfSrXLI
— NWS Cleveland (@NWSCLE) February 23, 2021
The GOES East geostationary satellite, also known as GOES-16, keeps watch over most of North America, including the continental United States and Mexico, as well as Central and South America, the Caribbean, and the Atlantic Ocean to the west coast of Africa. The satellite's high-resolution imagery provides optimal viewing of severe weather events, including thunderstorms, tropical storms, and hurricanes.